Work with the Menu Bar
The menu bar is one of the most exciting parts of the VisualWebb website. The menu can simply be set up to drag and drop into place. This includes naming the menu items and the drop-down effect that comes with some of the more sophisticated websites on the internet. From the control panel of your website go to "Appearance -> Menus". From this window you should be able to see 4 small panels and one large panel.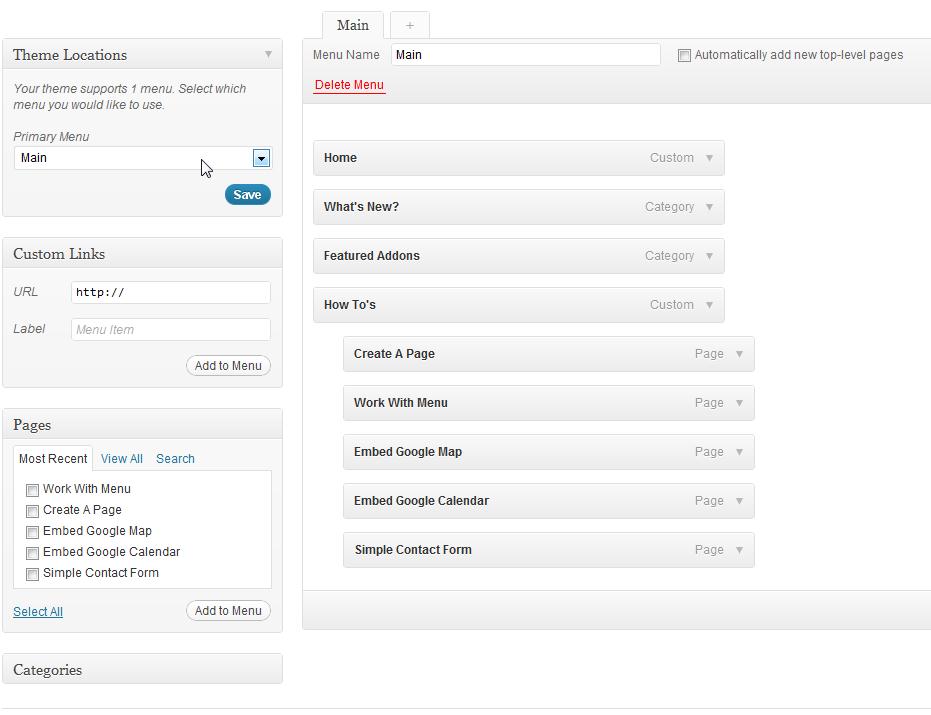 From this view you can see that a menu has been created already by VisualWebb and named it Main.  Main is selected as the primary menu and saved.  You can create more than one menu and use it as an alternate primary menu or set up a secondary for a sidebar widget menu.  For a secondary menu click the + symbol in the main window tab, name and save this new menu. 
Categories
To create menu buttons simply select from the items you want in your menu bar from the remaining 3 panels to the left.  You can select a Categories button from the bottom panel. Categories are from Posts submitted like News & Event items.  You can create a categories and with each post assign it to a category or categories from a list and add this auto generated pages to your menu bar. This would be similar to creating a category of News and another category of Community Events and applying post to each. 
Pages
Create new pages and this list will populate with the names of the new pages. Simply select the pages you want to show in your menu and click Add.  This will add the pages selected to the bottom of the list in the main window. Drag and drop from the main window in a vertical layout.  If you drag to indent the menu item, that menu item will show as a drop-down item to the menu item not indented above it.
Custom Links
The most versatile is the custom link panel.  From this pane copy and paste a url directing your customer to a different location, name this link and then Add to Menu. If this URL is an external link, from the main pane click to expand the new menu item before you drag the new menu item into place. Select "Link Target" (if not visible use the "Screen Options" tab in the upper right corner) drop-down and select "New Window or Tab". This will allow the new URL to open a new window when clicked. (use a "#" symbol in place of the "http://" if you want the new button to be a drop-down header)